Why Leverage Was Born

Leverage began as a concept to merge a longtime passion for wine with a desire to utilize its ability to bring enjoyment and collaboration to many people. Inspired by this idea to create this brand and "Leverage" its existence to further advance the concept of how wine can enhance enjoyment of charitable efforts, bring people together, and dedicate ourselves to something bigger. We hope you join us on this labor of love and raise your glass and toast those loved ones around you, and the ones who've gone before, and together we can pour our passion into something greater. Cheers!
---
Consulting Winemaker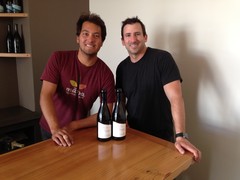 Leverage chose Paso Robles winemaker Aaron Jackson as our expert in boutique winemaking ranging from terroir, viticulture, vineyard selection, enology, production, and pretty much everything our brand needs to make the best wine possible. We are thrilled and honored to have such a great winemaker and all-around good guy for our program.