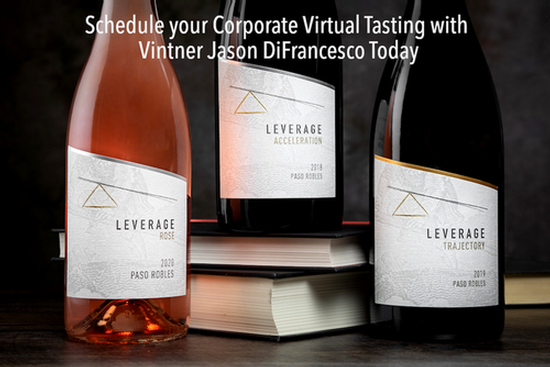 Nurture your relationships with clients and colleagues with a 60-minute Corporate Virtual Wine Tasting hosted by Proprietor, Winemaker, and Certified Specialist of Wine Jason DiFrancesco, CSW.
ZOOM EXPERIENCE includes:
An engaging PowerPoint presentation
A discussion of wine grape varieties
Winemaking process of each individual wine
Tips for tasting wines like a pro
Q&A
Please fill out the form below to inquire about our program. We will work with you to choose wines that fit your budget. A spreadsheet will be provided to upload names and addresses for shipping.
PRICE & ATTENDEE INFO:
Up to 100 participants
Pricing variable depending on wine selected, but averages $150 per person
We will ship the wine to each participant
Restricted states where we are unable to ship: IL, UT, MS, AL, HI, OK
Ask us about customizations and add ons with your package!
ABOUT LEVERAGE
Leverage Wines is a boutique winery devoted to fine hand-crafted small production wines from top vineyards in Paso Robles, CA. A portion of Leverage sales is commited to supporting brain tumor research through the National Brain Tumor Society.